by Staff writer


JSA Psychotherapy conduct educational events for workforce wellbeing
Those of you who have been following our business development blogs recently will be familiar with the progression of our workforce wellbeing programme. Now that refinement of the package is complete, we have organised and begun hosting an ongoing series of corporate events to address the importance of a well-supported workforce and provide answers to pressing concerns raised by the managers of small to medium enterprises.
This matter is one that we are deeply invested in raising awareness about, as all our professional research and first-hand experience leads us to understand how damaging and pervasive it truly is. In fact, we have made a point of engaging in outward discussions regarding the topic on multiple occasions, such as in this recent article.
Our first event took place at the end of last month, on the 30th of April. We hosted the day in association with Lancaster University, making use of our membership within their network of regional business cohorts. As such, our first group of delegates were drawn from the other SMEs that comprise the group. This included all sorts of companies, including those in the agricultural and social care sectors, both of which are infamous for their high rates of staff turnover and workplace mental health concerns.
The morning's presentation was delivered in three segments. Principal Psychotherapist Julie Stirpe first established the nature of chronic stress, and how to recognise it as different from a reasonable and expected level of pressure in the workplace. Cognitive Behavioural Therapist Alastair Barrie continued by elaborating on the ways in which an inability to balance demands and adequate coping mechanisms occur and the effects it will cause on mental health. Lastly, Consultant Psychotherapist Kate Portman provided suggestions of techniques that can be helpful for 'wellbeing triage' to address these issues for immediate, short term solutions.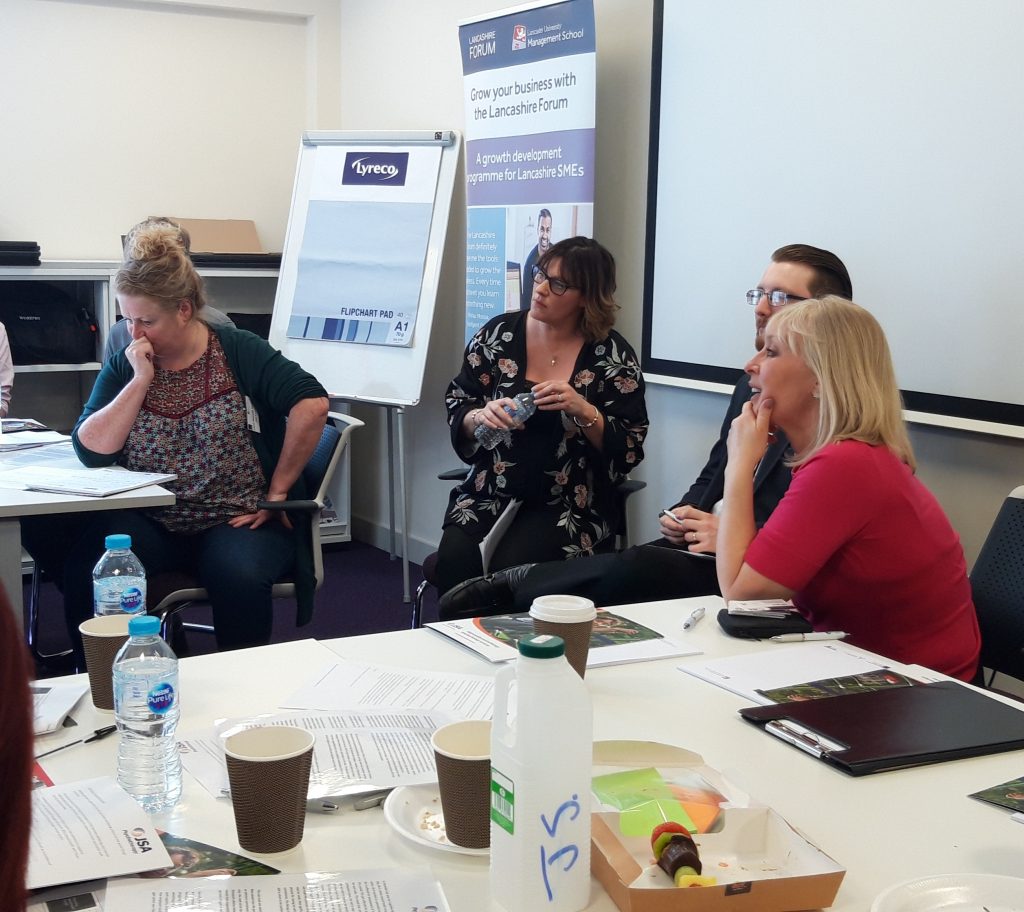 Following the presentation, the panel of therapists conducted a Q&A session, in which many of the attendees generously shared some of their own examples of issues that had arisen in the workplace and asked various questions about the logistics of implementing support to mitigate similar ones in future.
Given the enthusiasm demonstrated for further understanding and actionable progress, we also provided the delegates with a selection of print materials to take away with them. This included a brochure incorporating key statistics and information about the prevalence of workplace stress, as well as details of the package that we offer to resolve these issues and keep everything running smoothly in a proactive approach to employee welfare.
Those who expressed interested in our retainer package received posters that they could display in their workplace, encouraging the team that their needs were valued and signposting them to engage with the contracted help if needed. Overall, the event was a great success and we're very excited to put on more in the near future.
The next one is scheduled to take place in Burnley on the 19th June. Please contact us at office@jsapsychotherapy.co.uk or 01282 685345 if you are interested in receiving further details, registering your interest or inquiring about future events. We are also open to requests to put on the event at the place of work or business centre of any hosts who wish to promote the emotional wellbeing of their employees or tenants.