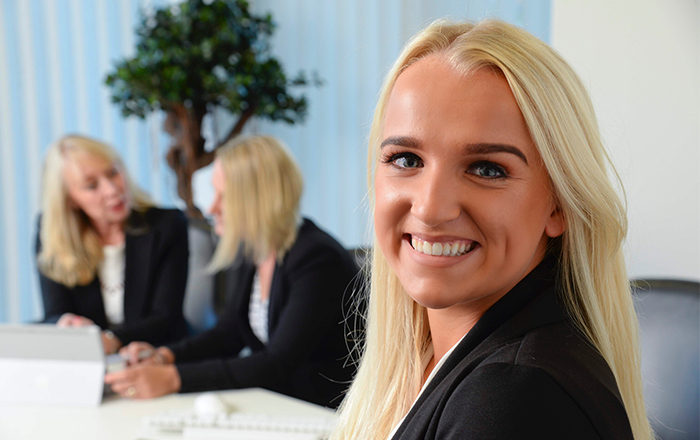 by Daisy Stirpe


Alicia Barrett promoted to Group Practice Manager of JSA Psychotherapy!
The start of a new year can be a momentous time for new starts and big changes. We're not even two full weeks into January yet, but at JSA Psychotherapy we've already seen some major shifts in dynamics here in the office. The appointment of a new group practice manager has been our most significant developments, a role that we are delighted to announce will now be filled by Alicia Barrett.
This promotion has come at a fitting time, as this month marks the 5th year that Alicia has been working at the company since joining the team as an apprentice administrator in 2015. Working consistently since her arrival to keep the practice running smoothly, she has continuously refined her skills and taken on increasing responsibility as time has passed. At this stage, she has inarguably become the backbone of JSA's day-to-day organisation.
This growth and development has been continuously fostered under the supervision of multiple different managers during Alicia's time here, with subsequent promotions to operations assistant, practice supervisor and now a managerial position of her own!
Additionally, in an effort to more closely integrate JSA with our sister company Life Change Care, Alicia will also be responsible for overseeing the workplace efficiency of both businesses within the shared office environment. We are hopeful that this decision will serve to further consolidate the two teams, for which there is already a great deal of enthusiasm across the board.
"I am really grateful to have been given this opportunity" states Alicia. "I can't wait to get stuck in with the demands of the role, and I'm excited to see what the next few years will bring!"
Alicia's most pressing plans at this time are to generate supplementary promotional materials to boost JSA's media profile, and to expand our client outreach with some new packages of clinical intervention. This hands-on approach to business development is sure to lay firm foundations for the practice's success in the coming decade.