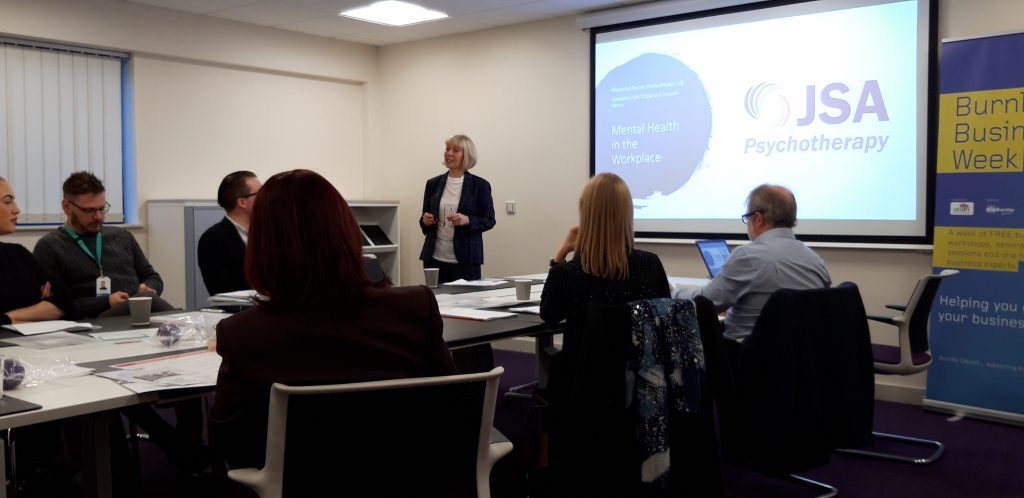 by Staff writer


Burnley Business Week 2019: Our Workplace Wellbeing seminar
Last week at our main offices in Burnley, we hosted another of our free corporate events to promote better understanding of mental health and emotional wellbeing issues in the workplace, and effective solutions for ameliorating them.
The delegates who came along on the day were mainly invited as part of our shared partnership within the local Bondholders. These included representatives from Burnley College and Sixth Form, Birchall food service and Napthens solicitors. The Bondholders scheme is Burnley's most influential cooperative networking group, of which JSA Psychotherapy are a long-standing member.
As mentioned in our previous article on the subject, the event was co-ordinated and co-hosted with Burnley borough council's Economy and Growth department as part of their annual business week. The morning was opened by Business Support officer Adam Holden, who delivered a presentation to welcome everyone in attendance and demonstrate the intent of the town-wide initiative to encourage collaboration and share awareness of our individual operating services.
In our case, this involved informing the attendees from our peer businesses about the kinds of problems that can arise within a workforce or in personal life. We held an open discussion about workplace stress and the principle of mental health first aid, supplemented with and informed by our expert knowledge of the industry, as covered in this article from earlier in the year.
One interesting question that was raised during the morning's Q&A segment was whether issues of mental health and chronic stress in the workplace are on the rise. It's true that recent research reveals chilling statistics on the prevalence of these issues. The Health and Safety Executive's 2018 report revealed that at least 57% of all sickness leave is directly caused by overwhelming stress.
Though we don't have equivalent data to compare to this year, it's inarguably true that the causes and sources of this stress are very different now than in decades past. Modern life presents entirely new challenges that we as a society have not yet adjusted to, with constant access of communication through information technology and social media meaning that we are no longer able to fully abandon the stresses of the workplace once the working day is over. This is especially concerning in its impact for young people who have been raised as native to this environment of ceaseless connection and sensory overload.
A sentiment that we explored at length with the group was the importance of maintaining both proactive techniques to support employees experiencing overwhelming stress and reactive ones to provide triage in the immediate wake of unexpected traumatic events. In this way, it is possible to ensure that a company's employees benefit from reinforced emotional resilience, while also being able to avoid the worst effects of acutely traumatic circumstances in unexpected times of crisis.
Additionally, we concluded the presentation with some specific suggestions of strategies and services which stand to be of critical benefit to them in ensuring that these issues are dealt with in an efficient, proactive and ethical manner. To assist other small to medium enterprises achieve these outcomes, we have developed our emotional wellbeing retainer package. We are also in a position to conduct additional training opportunities to provide SMEs with a more specialist service to upskill a extant member of a company's team as their internal workforce wellbeing champion.